Marine Digital Instruments
Upgrade from old analog gauges to multifunction digital instrumentation panels with our SeaGauge product line. Remote Sensor units interface with senders in the engine room or bay and transmit readings to multiple locations throughout the vessel via wired or wireless network connections.
Color display heads provide sunlight viewable graphics of all gauges in a variety of customizable formats. Create multiple instrumentation pages that are easily recalled using touch screen interface. Different display themes can be loaded via a PC/Laptop connection at any time. A variety of display sizes and mounting options are available.
The Remote Sensor Interface unit is designed to adapt to virtually any application and supports dual engine instrumentation for Tachometers, Temperatures, Oil Pressures, Fuel Levels, Voltage, and much more.
Our vDash Windows based software application provides a simple method for designing custom gauge layouts and sensor calibrations to match any installation. vDash allows real-time display of engine data and fuel levels directly on attached PC/Laptop monitors in addition to our SeaGauge color display heads.
Our line of marine instrumentation products featured rugged construction designed to withstand the marine environment.
Mouse over and select the links below for further information on SeaGauge products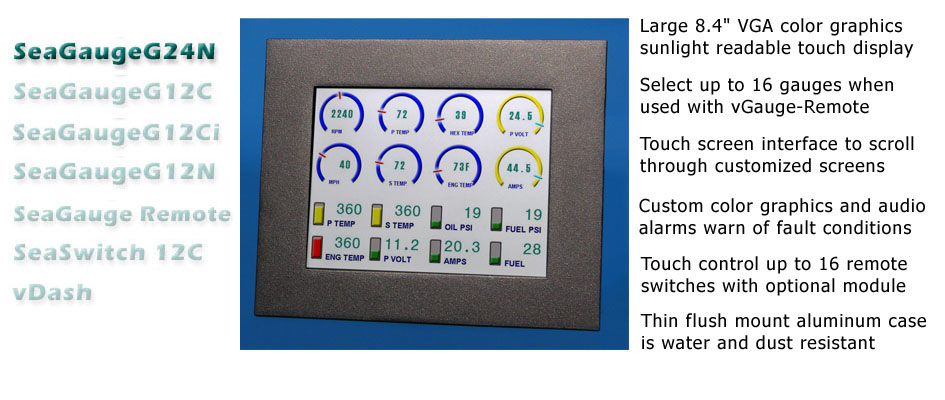 just some of the many supported instrumentation functions

temperature gauges

temperature gauge

digital temperature gauge

water temperature gauge

oil temperature gauge

marine gauges

dash gauges

speedometer gauges

instrument gauges

stewart warner gauge replacement

VDO gauge replacement

auto gauges

mechanical gauges

auto meter gauges

gauges

digital gauges

marine gauge

race gauges

racing gauges

vacuum gauges

fuel gauges

diesel gauges

truck gauges

car gauges

boost gauges

gauge repair

auto gauge

volt gauge

autometer gauge

dashboard gauges

tachometer gauge

custom gauge

industrial gauge

vacuum gauge

temp gauge

automotive gauge

boat gauge

auto meter gauge

boost gauge

egt gauge

fuel gauge sending unit

fuel pressure gauges

oil pressure gauges

digital fuel pressure gauge

differential pressure gauges

fuel pressure gauge

pressure gauge

digital pressure gauges

vacuum pressure gauges

digital pressure gauge

oil pressure gauge

nitrous pressure gauge

low pressure gauge

air pressure gauge

vdo oil pressure gauge

electronic pressure gauge

marine tachometer

auto meter tachometer

engine tachometer

vdo tachometer

tachometer

tachometer car

digital tachometer

tachometer repair

boat tachometer

diesel tachometer

temperature meter

auto meter
We also offer custom design and configuration to fit your application.
Click on the links below to get more information on our outstanding line of gauges and switches.
Visitors to www.chetcodigital.com since Jan 1, 2007
info demo specs prices products order support contact us
(c) Copyright 2008

update 6/1/2008